Learning Guide
Stratford Career Institute - Online Learning
About Stratford Career Institute - Online Learning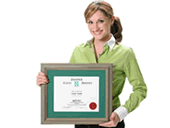 Stratford has been the career education institute of choice for hundreds of thousands of students.
As an innovative career education institute, we pride ourselves on offering a range of diverse distance education programs designed to meet the needs of our students and the job market.
We continually review and enhance our curriculums so that they encompass the latest industry information. Students enrolled in our career education programs can be sure that they are receiving up-to-date, practical information that will give them the competitive edge when applying for jobs.
The career education programs we offer are designed to offer:
Convenience and Flexibility
High Quality Learning
Guided Support
Affordability
Start your new career with one of Stratford Career Institute's many distance education programs. You could earn your career diploma in as little as six months, or take up to two years if you prefer. Enroll in our career education programs online now!
Stratford Career Institute - Online Learning:
PO Box 15028 STN BRM B, Toronto, M7Y 2Y8
Programs Offered at Stratford Career Institute - Online Learning:


Architecture
Arts - Design / Animation
Arts - Visual / Performing
Auto Mechanics and Other Repairers
Beauty / Massage
Business / Management / Office Services
Culinary Arts
Education
Environment, Conservation, and Sciences
Finance
Health Sciences
Healthcare
Language and Literature
Law and Justice Studies
Law and Legal Administration
Marketing and Sales
Natural / Alternative Medicine
Skilled Trades
Sport Sciences and Fitness
Technology
Travel, Tourism, and Hospitality
Send to a Friend
*Required Fields