Learning Guide
Harris Institute For the Arts - Toronto
About Harris Institute For the Arts - Toronto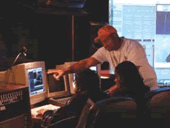 Learn the tricks of the trade at Harris Institute on state of the art equipment!
The studio complex includes three control rooms for music recording, audio post and electronic music; labs for Pro Tools, Midi, Logic Audio, electronics and a variety of isolation spaces.
The studios were designed by Martin Pilchner, who was nominated for the TEC Award for "Studio Designer of the Year" for Great Divide Studios in Aspen, Colorado in 2007, for Saint Claire Recording in Lexington, Kentucky in 2005 and for Star City in Bethlehem, Pennsylvania in 2003.
Harris Institute For the Arts - Toronto:
118 Sherbourne St., Toronto, M5A 2R2
Programs Offered at Harris Institute For the Arts - Toronto:


Arts - Multimedia / Recording
Harris Institute For the Arts - Toronto Advantages:


Voted one of Mix Magazine's "Finest Media Arts Institutions"
Conveniently located in downtown Toronto!
Highly skilled faculty with professional experience